Invisalign® / orthodontics
Are you not satisfied with the position of your teeth and want an even smile? With our transparent splints (aligners) for correcting the position of your teeth, the process is almost invisible and usually takes only a few months. Today, these splints are common alternatives for adults (and also young people) to fixed braces. We work with the transparent dental splints from Invisalign®, an American company that has already treated more than 10 million people worldwide. We offer treatment with these barely visible aligners in our practice in Munich.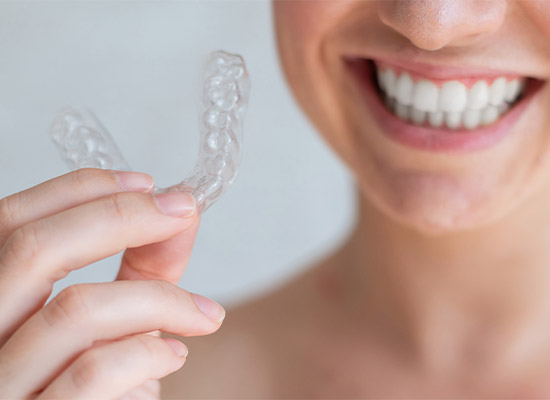 Benefits of dental correction with Invisalign®
On the teeth, the dental splints can hardly be seen. They are very thin and made to fit exactly.
You can take out the aligners at any time for eating, drinking, tooth care or for important appointments or occasions.
The splints are metal-free, incompatibility or the risk of allergy are therefore very rare
You only need to make individual brief visits to our practice, and the entire treatment is usually completed within a few months.
The treatment is easy to plan and predict.
See your "new smile"even before treatment
Initially we offer a non-binding consultation and determine whether a successful treatment with Invisalign® is possible for your situation. We will then take impressions or digital intra-oral scans and photographs of your teeth. With these, Invisalign will create a 3D simulation ("ClinCheck"), to show you how your teeth will look at the end of the orthodontic treatment. This means we will be able to show you, even before the start of treatment, how your future "new smile" may look. We will then discuss the result together and you will receive detailed information on the development, duration and costs of the treatment. Individual splint production can then start.
The principle of the treatment is based on the teeth being moved step by step into the desired end position. For this purpose, different splints are used one after the other. The thin aligners exert gentle pressure on the teeth. Each treatment interval covers about ten days. You exchange the splints yourself: the progress of the therapy is regularly monitored at intervals of several weeks by those in our practice carrying out the treatment.
Invisalign® certified practice
If you are a patient of the Dr. Kolling Dental Practice, you can get your new radiant smile by staying in our Invisalign® certified practice. You do not need to consult an orthodontist. The treatment is carried out entirely by us within the practice.
Who will take on the costs of the treatment?
Costs for splint therapy are not refunded by statutory health insurance bodies. However, some private health insurance companies will cover the cost of alignment if it is deemed necessary for dental reasons. We would be pleased to assist you with your inquiry to the health insurance company concerning possible acceptance of the costs.