Dental prostheses
In order to offer you the best quality where dental prostheses are concerned, we have been working closely together for many years with a specialised dental laboratory , which directly adjoins our dental practice in Munich. This cooperation has brought us a number of benefits. For example, the dental technician will come directly into our practice in order to make sure your new dentures match your natural teeth in colour. Trying out your new dentures can be done in the laboratory or on site. In this way you will save a lot of time.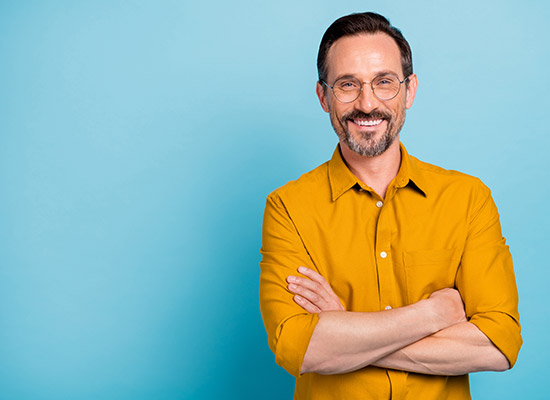 Dental prostheses in Munich: comprehensive advice
It's a matter of course for us to advise you in detail about different types of dental prostheses and what they will cost. Together with you, we want to find a solution that matches your requirements.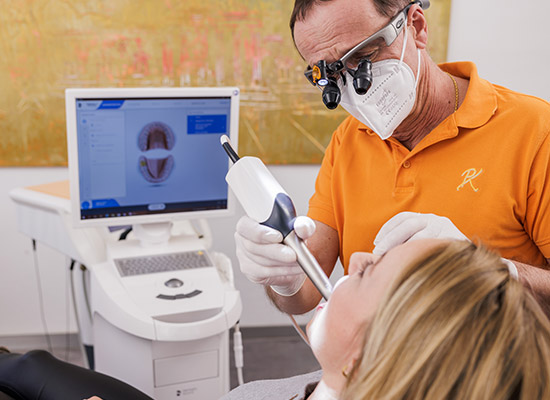 Top quality and aesthetics
It is our goal to allow you to eat, speak and laugh again without any restrictions. Apart from aesthetics, we are concerned with top quality and the best possible function of your dentures. To make sure that your "new teeth" live up to our high demands, we use modern materials and techniques. For example, we can record the situation of your teeth with our intra-oral scanner . The image of your teeth and gums that this creates is very precise and enables an excellent fit of your dentures.
Benefits of fully ceramic prostheses
In function and aesthetics, fully ceramic prostheses are very similar to natural teeth. Benefits of metal-free prosthetic material are:
Fully ceramic dentures are of the highest aesthetic quality. Thanks to individual colour matching, natural transparency and typical light reflection, they are remarkably similar to genuine teeth.
The metal-free, completely ceramic prosthesis is bio-compatible: It is excellently suited to all those who want to safely exclude the risk of allergic reaction. Also, there will be no reciprocal interaction with existing prostheses containing metal.
The extremely smooth surface of the ceramics hampers the adhesion of coatings on the teeth. The risk that diseases such as gum inflammation or inflammation of the dental support system should occur is lower than with metal prostheses.
Fully ceramic prostheses do not react with (metallic) dentures and are distinguished by low thermal conductivity.
An overview of prostheses:
Crown and partial crown: If teeth can no longer be preserved by fillings because the damage is too great, crowns are used. They recreate the stability, shape and function of teeth. The crowns are placed like a kind of cap on the ground remainder of the tooth. We can recommend metal-free, fully ceramic crowns, which also offer a perfect appearance.
Bridge: A bridge is used if a tooth is missing or several adjacent teeth are missing. If it is not possible to fasten the bridge to adjacent teeth, we can frequently use implants . If only one tooth is missing, an individual implant instead of a bridge is recommended.
Partial denture: With the aid of a partial denture, it is possible to close small or large gaps in the jaw. Partial dentures are used when there are no longer enough teeth in the jaw to anchor them. As a rule, they are fastened with clips or telescopic crowns and must be removed for daily cleaning.
Full dentures: If all teeth are missing or only a few remnants are left, a full prosthesis can be used.