Modern technology
The high-tech equipment in our dental practice in Munich enables comprehensive diagnosis and precise planning. Dental treatments and surgery can be undertaken here in a gentler and safer manner. We keep ourselves up to date for you, so that you can continue to profit from the benefits of modern technology.
A highlight: 3D X-ray machine (DVT)
We use three-dimensional images for maximum precision and detailed treatment planning.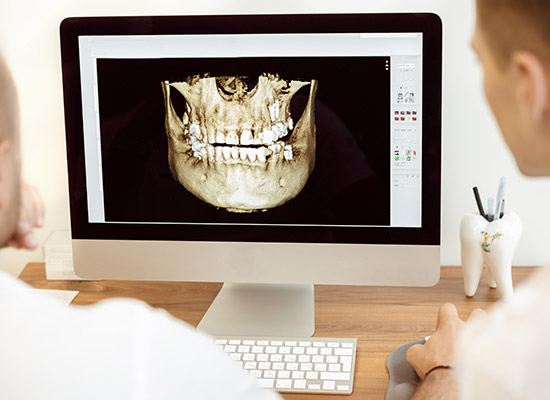 Further special technology:
Digital 2D X-rays: These enable us to take reduced radiation, quick, environmentally friendly pictures.
3D implant planning: If required, we can plan your implantation in advance on-screen with computer support. 3D provides better safety, ideal positioning of the implant and a predictable result.
Electrical root length measurement (endometric measurement) and mechanical root canal preparation: Using the latest modern appliances, we determine the exact length of your tooth roots for root canal treatment and clean the roots with flexible mechanical files made of nickel and titanium. These elastic files will reach even very narrow and extremely bent channels without breaking (low risk of fracture). This makes it possible for us to cleanse the infected root canals more carefully than with hand instruments. Which increases the chances of a successful root canal treatment and therefore also the chances of keeping the tooth.
Surgical microscope: If required, we carry out root treatments at magnification of up to 20 times with a surgical microscope. Thanks to better vision, we can find and treat even the smallest root canals. The quality of treatment and therefore also the prospects of success for the treated tooth are definitely increased.
Intra-oral scanner: Instead of the usual impression, we can with the help of an intra-oral scanner record the situation of your teeth digitally and without the need for contact. The scanner is used for example when planning dentures or an orthopaedic jaw treatment.
Intra-oral camera: Thanks to an intra-oral camera, we can take direct pictures of your tooth in the mouth, in order to make the findings or the further treatment plan visually clearer for you.
Separate operatingtheatre with anaesthetic equipment: For larger surgical interventions in a sterile environment and the option of the permanent care of an experienced anaesthetist.